Updated March 31 2018
Former Fayetteville SwampDog Joey Lucchesi Makes Major League Debut for San Diego Padres
HOLLY SPRINGS, N.C.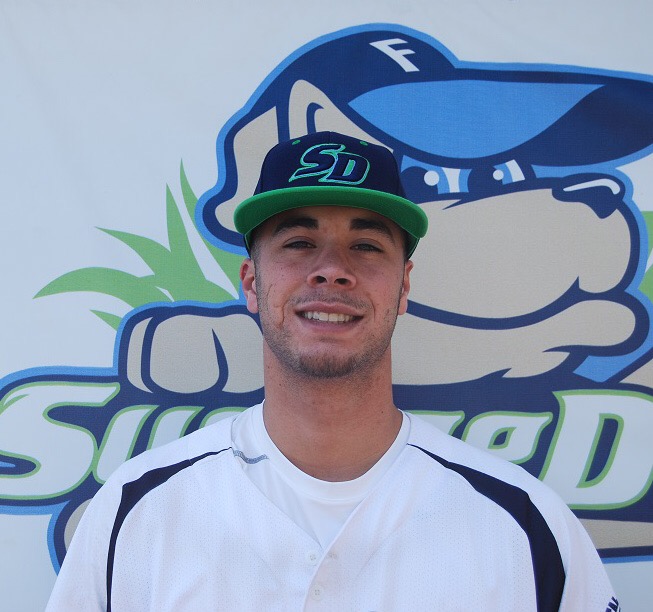 Former Fayetteville SwampDog Joey Lucchesi made his major league debut March 30 for the San Diego Padres. Lucchesi started the game, allowing three runs over four 2/3 innings pitched while striking out one in the Padres 8-6 loss to the Milwaukee Brewers.
The 6-5, 204, left-hander was drafted by the Padres in the fourth round of the 2016 MLB Draft out of Southeast Missouri State. He compiled an impressive 1.99 ERA and 204 strikeouts across 181 minor league innings the past two seasons. His play earned him a Spring Training invite where he continued his rise, finishing with a 1.54 ERA and a .128 opponent's batting average over 11 2/3 innings pitched.
Entering the season as the Padres ninth overall prospect, according to MLB Pipeline, Lucchesi was selected to replace injured Dinelson Lamet in the team's starting rotation. While he showed nerves early in allowing two runs in the first, he settled in nicely there after to get the team into the fifth inning with a 3-2 lead.
The California native also notched his first career MLB strikeout versus All-Star Ryan Braun.
Joey Lucchesi got Ryan Braun to chase some high 🧀 for his first @MLB K. Lucchesi is #Padres No. 9 prospect: https://t.co/eosjpYq3sj pic.twitter.com/1YPY6PzaIH

— MLB Pipeline (@MLBPipeline) March 31, 2018
Lucchesi made four appearances as a starter for the SwampDogs in 2015, accumulating a 2.29 ERA across 19 2/3 inning pitched to go along with 25 strikeouts and a .211 opponent's batting average. He managed to allow only two-extra base hits with both being doubles.
His debut marks the second former CPL player to make their MLB debut in 2018, and the 111th all-time. He also pushes the SwampDogs major league alumni total to eight.
About Coastal Plain League
The Coastal Plain League is the nation's premier summer collegiate baseball league. Heading into its 22nd season in 2018, the CPL features 16 franchises playing in Georgia, North Carolina, South Carolina and Virginia. To date, the CPL has had over 1,450 alumni drafted and 111 alums – including 2017 ALCS MVP, 2017 World Series champion, 2011 AL MVP and Cy Young award winner Justin Verlander, as well as 2017 NLCS MVP Chris Taylor – make their Major League debut. For more information on the Coastal Plain League, please visit the league website at CoastalPlain.com, and be sure to follow us on Facebook, Twitter, Instagram and Snapchat @CPLBaseball.
Contact:
Shelby Hilliard
Phone:
919-852-1960