Updated July 13 2007
White Replaces Gianini On American All-Star Team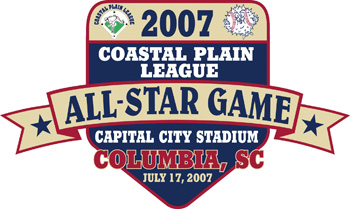 RALEIGH, N.C. - The Coastal Plain League announced this evening that Columbia's Brandon White, a 5-10, 170-pound lefthanded pitcher from Francis Marion, will be replacing lefty Matt Gianini of Martinsville and Central Connecticut State on the American All-Star Team due to injury.



The 2007 CPL All-Star Game will be on Tuesday, July 17th at Capital City Stadium in Columbia, S.C., home of the league's Columbia Blowfish.



The Coastal Plain League is the nation's hottest summer collegiate baseball league, now in its 11th season. Featuring 15 teams playing in North Carolina, South Carolina and Virginia, the CPL is certified by Major League Baseball, and gives college players the chance to refine their skills with wooden bats during the summer months. Players are housed with local host families for the summer and past experiences have been very positive for both players and hosts. For more information on the Coastal Plain League, please visit the league website at www.coastalplain.com.
——-
Contact:
Phone: