Updated July 11 2007
2007 CPL National All-Star Team Announced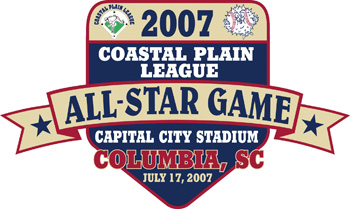 RALEIGH, N.C. - The Coastal Plain League announced today the roster for the 2007 National CPL All-Star Team. The Coastal Plain League's ninth annual All-Star Game will be played at Capital City Stadium in Columbia, S.C. on Tuesday, July 17th.



The National Team features players from 10 CPL clubs (Asheboro, Edenton, Florence, Gastonia, Outer Banks, Peninsula, Spartanburg, Thomasville, Wilmington and Wilson), with the players being selected by head coaches and media representatives from all clubs. The National roster is comprised of 24 players, highlighted by seven Player of the Week selections: second baseman Brandon Scott (Week 2 & 3), third basemen Rob Lyerly (Week 4) and Rich Poythress (Week 2), outfielders Chris Swauger (Week 4) and Eddie Van Es (Week 1), as well as pitchers Justin Lilly (Week 4) and Aaron Lorio (Week 1).



The Columbia Blowfish, in conjunction with the Coastal Plain League, will host the All-Star Game and festivities beginning on Monday, July 16th and running thru Tuesday, July 17th. Game time is set for 7:05 p.m. on July 17th.



Below is the complete roster for the National CPL All-Star Team (starters are shown with an asterisk (*)).





Pos. Name Team Ht. Wt. Yr. School Hometown

C Richard Jones* Thomasville 6-1 212 Fr. The Citadel Sumter, S.C.

C Will Greenberg Edenton 6-4 200 So. Maryland Gaithersburg, Md.



1B Kyle Roller* Thomasville 6-2 240 Fr. East Carolina Rockingham, N.C.

1B Kyle Bowley Spartanburg 6-2 220 Jr. USC-Upstate Orlando, Fla.



2B Brandon Scott* Wilson 6-2 190 Jr. Campbell Bethel, N.C.

2B Nick Liles Florence 6-0 175 Fr. Western Carolina Laurinburg, N.C.



3B Rob Lyerly* Asheboro 6-1 185 Fr. Campbell Indian Trail, N.C.

3B Rich Poythress Thomasville 6-4 236 Fr. Georgia Grovetown, Ga.

3B Ryan Bohanon Outer Banks 6-2 220 So. South Alabama Goddard, Kan.





Pos. Name Team Ht. Wt. Yr. School Hometown

SS Tony Kostelnik* Edenton 6-0 195 Jr. Point Park Whitaker, Pa.

SS Brent Weiss Wilmington 5-11 175 So. George Mason Suffern, N.Y.



OF Chris Swauger* Thomasville 6-0 195 Jr. The Citadel Odessa, Fla.

OF David Thomas* Thomasville 6-0 185 Jr. Catawba Winston-Salem, N.C.

OF Eddie Van Es* Peninsula 5-10 185 So. VMI Hampton, Va.

OF Kevin Mattison Edenton 6-1 185 Jr. UNC-Asheville Kernersville, N.C.

OF Nick Nosti Edenton 5-11 170 Jr. Sonoma State San Rafael, Calif.

OF Wes Hobson Gastonia 6-0 180 Fr. Appalachian State Pfafftown, N.C.



RHP Justin Lilly* Outer Banks 6-4 220 Jr. Campbell Raleigh, N.C.

RHP Wade Broyles Thomasville 6-2 200 RS-Fr. Mississippi Madison, Miss.

RHP Kenny Moreland Peninsula 5-11 190 Jr. Christopher Newport Springfield, Va.

RHP J.P. Primus Edenton 6-0 185 Jr. N.C. A& T Garner, N.C.

RHP Aaron Lorio Thomasville 6-7 250 Jr. Louisiana Tech Ruston, La.

RHP Michael Bowman Peninsula 6-3 190 So. VMI Richmond, Va.

RHP Casey Hodges Spartanburg 6-2 190 Jr. Mount Olive Rocky Mount, Va.



The Coastal Plain League is the nation's hottest summer collegiate baseball league, now in its 11th season. Featuring 15 teams playing in North Carolina, South Carolina and Virginia, the CPL is certified by Major League Baseball, and gives college players the chance to refine their skills with wooden bats during the summer months. Players are housed with local host families for the summer and past experiences have been very positive for both players and hosts. For more information on the Coastal Plain League, please visit the league website at www.coastalplain.com.
——-
Contact:
Phone: