Updated July 12 2007
2007 American CPL All-Star Team Announced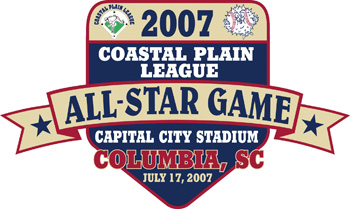 RALEIGH, N.C. - The Coastal Plain League announced today the roster for the 2007 American CPL All-Star Team. The Coastal Plain League's ninth annual All-Star Game will be played at Capital City Stadium in Columbia, S.C. on Tuesday, July 17th.



The American Team features players from 11 CPL clubs (Columbia, Edenton, Fayetteville, Florence, Gastonia, Martinsville, New Bern, Petersburg, Spartanburg, Wilmington and Wilson), with the players being selected by head coaches and media representatives from all clubs. The American roster is comprised of 24 players, highlighted by six Player of the Week selections: third baseman Stephen Batts (Week 5), outfielders Chris Pecora (Week 1) and Alex Lee (Week 3), as well as pitchers Brian Feekin (Week 4), Chris Gloor (Week 2) and Matt Gianini (Week 1).



The Columbia Blowfish, in conjunction with the Coastal Plain League, will host the All-Star Game and festivities beginning on Monday, July 16th and running thru Tuesday, July 17th. Game time is set for 7:05 p.m. on July 17th.



Below is the complete roster for the American CPL All-Star Team (starters are shown with an asterisk (*)).





Pos. Name Team Ht. Wt. Yr. School Hometown

C Brett Mieras* Martinsville 6-0 190 Jr. Creighton Omaha, Neb.

C Christian Rosa Florence 5-9 185 Jr. Tusculum Toa Baja, Puerto Rico



1B Frank Pesanello* Petersburg 6-3 225 So. Northeastern Plainville, Mass.

1B Jesse Barbaro Florence 6-3 215 So. Lander Awendaw, S.C.



2B Chase Childers* Martinsville 6-1 190 So. Georgia State Kennesaw, Ga.

2B Conner Crumbliss Fayetteville 5-8 160 So. Emporia State Arkansas City, Kan.



3B Dominic Altobelli* Fayetteville 6-2 190 So. Illinois Oak Forest, Ill.

3B Stephen Batts Wilmington 6-1 195 RS-So. East Carolina Wilmington, N.C.

3B Mike Lyon Petersburg 6-1 210 Jr. Northeastern Plainville, Mass.



SS Zac Kennedy* Gastonia 5-11 185 Fr. Alabama Birmingham Gastonia, N.C.

SS Jason Morales Fayetteville 6-0 203 Jr. UNC-Pembroke Fayetteville, N.C.



OF Chris Pecora* Fayetteville 6-2 200 Jr. N.C. Wesleyan Henderson, N.C.

OF Brian Conley* Edenton 6-2 185 Jr. Towson Gaithersburg, Md.

OF Alex Lee* Columbia 6-1 180 Fr. Clemson Blythewood, S.C.

OF Jerry Sands Wilson 6-4 225 So. Catawba Clayton, N.C.

OF Tim Alberts Spartanburg 6-2 215 Jr. Niagara Baldwinsville, N.Y.

OF Justin Greene Columbia 6-1 180 Jr. Francis Marion Goose Creek, S.C.



RHP Nick Godwin* Columbia 5-11 180 Jr. South Carolina North Augusta, S.C.

RHP Ben Reeser Fayetteville 6-3 195 So. Illinois Bloomington, Ill.

RHP Aaron Martin Fayetteville 6-0 180 So. Illinois Georgetown, Ill.

LHP Chris Gloor New Bern 6-6 260 So. Quinnipiac Bay Shore, N.Y.

LHP Matt Gianini Martinsville 6-0 180 Jr. Central Conn. State West Haven, Conn.

LHP Brian Feekin Fayetteville 6-6 235 Fr. Nebraska Papillion, Neb.

RHP Scott Chapman Martinsville 5-11 160 Jr. Tampa Deltona, Fla.



The Coastal Plain League is the nation's hottest summer collegiate baseball league, now in its 11th season. Featuring 15 teams playing in North Carolina, South Carolina and Virginia, the CPL is certified by Major League Baseball, and gives college players the chance to refine their skills with wooden bats during the summer months. Players are housed with local host families for the summer and past experiences have been very positive for both players and hosts. For more information on the Coastal Plain League, please visit the league website at www.coastalplain.com.
——-
Contact:
Phone: